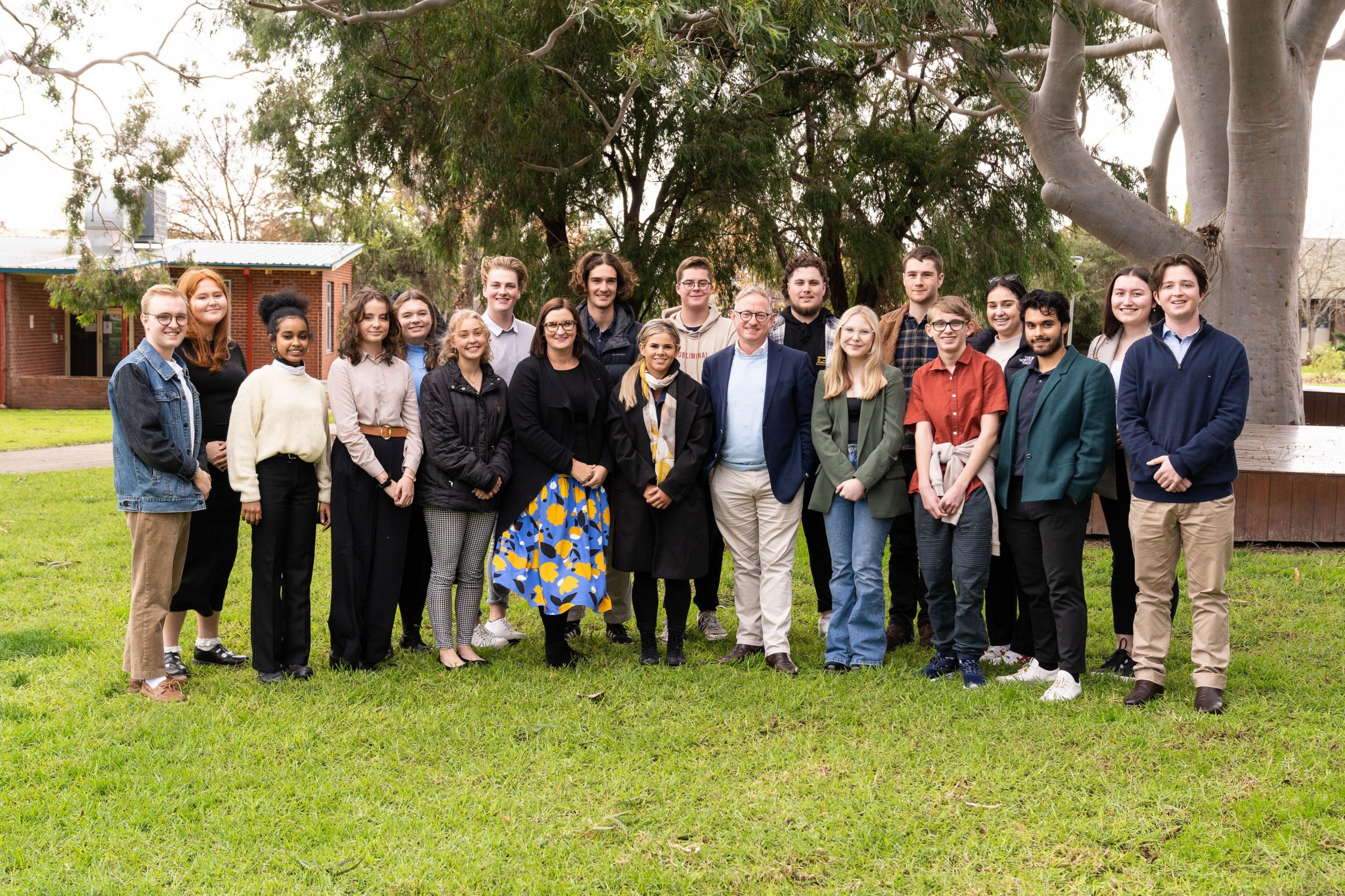 Members of this year's Regional Youth Taskforce have met in Wagga Wagga for their second official meeting to discuss and participate in activities supporting mental and physical health and education. 
The taskforce was established to provide policy and operational advice to the NSW Government to promote the needs of young people in the bush. 
Minister for Education Sarah Mitchell and Minister for Regional Youth Ben Franklin joined the 18 members of the taskforce, who travelled from across the state and listened to their ideas on how the NSW Government can best support young people. 
Ms Mitchell said she was thrilled to meet with the taskforce and hear their insights into the education system along with wellbeing and physical health.  
"This taskforce is made up of some incredible individuals who have a passion to improve the lives of young people in regional NSW," Ms Mitchell said.  
"We know there is no single way to support wellbeing and the insights from these amazing young people are shining a light on the best approaches for government." 
Mr Franklin said it was a delight to spend time with the young leaders from across the state and discuss the issues important to them.
"This meeting was an incredible opportunity for young people to come together and openly discuss mental health and the importance of checking in on their own wellbeing, as well as others," Mr Franklin said.
"We want to ensure young people are safe and able to thrive in their communities, and this meeting demonstrated ways the NSW Government can reach this goal through initiatives like mentoring programs and tailored social support networks. 
"It was a privilege to meet with this year's taskforce again to hear firsthand the issues regional young people are facing, and how we can best support them through practical policy measures and tangible solutions." 
Taskforce member Molly Brabham from Numeralla in the Snowy Mountains said wellbeing is an imperative topic of discussion to ensure a bright future for regional youth.
"Looking after the wellbeing of young people is vitally important in making sure our country, and our world, can learn and develop," Ms Brabham said.
"By focusing on wellbeing, we are bringing to the table what regional young people really need, and illustrating how our circumstances and interests differ from those in urban areas when it comes to mental and physical wellbeing."
Georgie Moustouskis, another taskforce member from Barrack Point in Shellharbour said she hopes to establish numerous programs for regional youth to flourish alongside her taskforce counterparts.
"I think the prioritisation of wellbeing is important, especially in a regional youth demographic, as it promotes a positive environment," Ms Moustouskis said.
"Regional youth are often neglected when the discussion of wellbeing arises, so I hope my position can foster a positive environment for my peers and I."
Mr Franklin said the taskforce will meet twice more this year to participate in activities and discussions relating to connectivity and community. 
"The pillars of wellbeing, connectivity, work ready and community are the core priority areas that the NSW Government is focusing on to support young people living in the regions," Mr Franklin said.  
"The Regional Youth Taskforce puts the issues faced by young people in rural and regional communities at the forefront, and I want to thank our 18 members for their enthusiasm and commitment to building a better NSW for regional youth." 
To find out more, visit nsw.gov.au/RegionalYouthTaskforce.