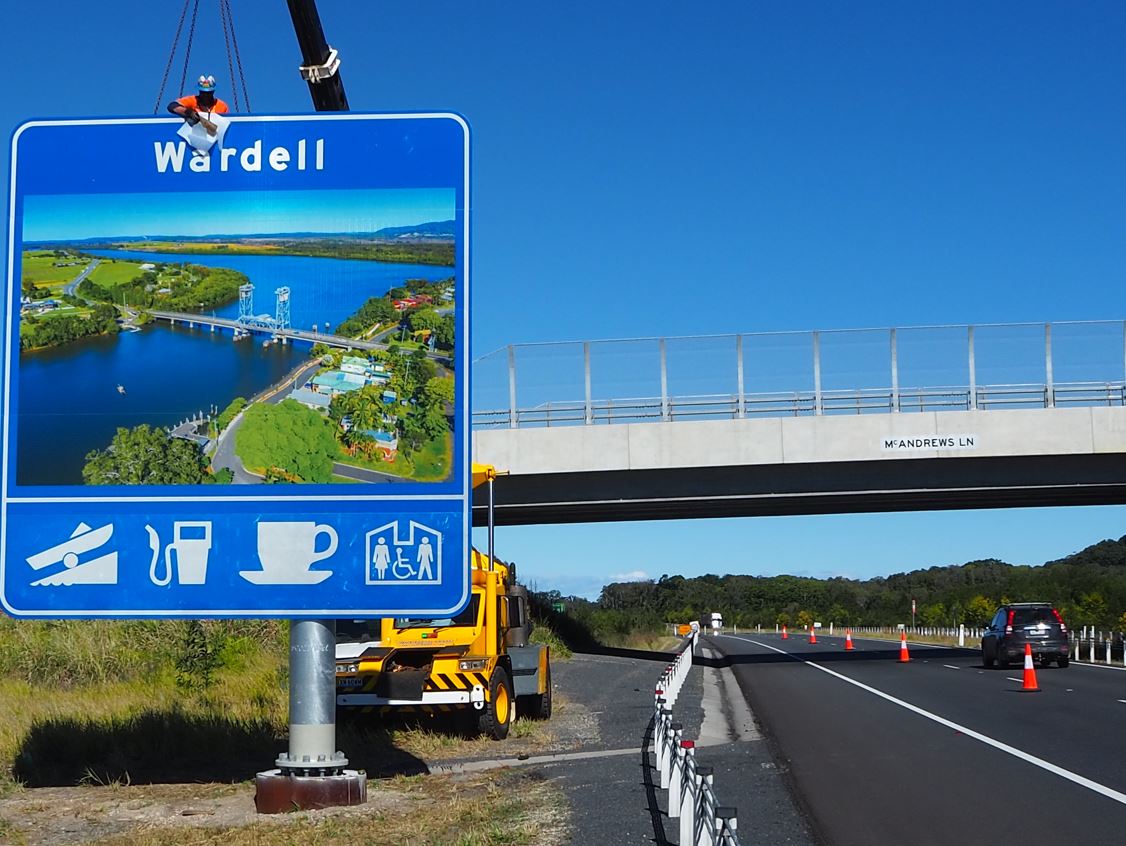 Motorists enjoying smoother and safer journeys along the upgraded Pacific Highway are being encouraged to visit some of the bypassed towns, with the latest sign installed at Wardell showing the services and tourist attractions the North Coast town has to offer.
Minister for Regional Transport and Roads Paul Toole said there were now signs installed at 12 bypassed towns between Hexham and the Queensland border to encourage more visitors off the highway and send tourist dollars to towns.
"Now that the Pacific Highway upgrade, the largest regional road infrastructure project in Australia, has crossed the finish line, we are delivering on our election commitment to install the state's largest directional signs at bypassed towns," Mr Toole said.
"The reflective signs, installed at both the northbound and southbound approaches, indicate what services are available in each town, including fuel, boating facilities, cafes and rest stops, and feature huge pictures to show off the local sights.
"Motorists would have already seen them in places like Woolgoolga, Grafton, Nambucca and Kempsey, so it's great we're continuing to roll them out right up to the Queensland border."
Member of the Legislative Council Ben Franklin said the latest sign to be installed shows off the Northern Rivers town of Wardell.
"The picture on the sign shows the Wardell Bridge and surrounding township, which was chosen by Ballina Shire Council and stakeholders," Mr Franklin said.
"This is the first of two identical signs being installed in coming days on the northbound and southbound highway approaches to Wardell, tempting travellers to make a stop and enjoy the local sights along this picturesque stretch of the Richmond River, including its landmark lift span bridge."
For more information about bypassed town signs, go to: nswroads.work/bypassed-town. Regional worksites are required to have a COVIDSafe plan in place and will continue to comply with all directives from NSW Health.