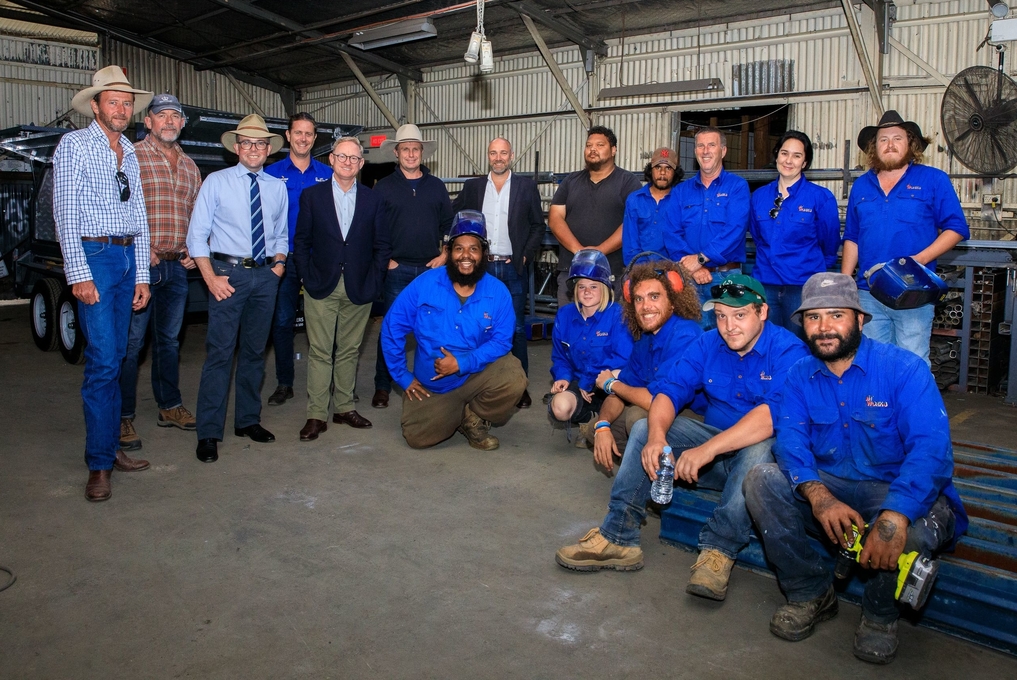 A skills development program in the New England region is helping vulnerable young people transition into the workforce and unlock new and exciting opportunities.
Minister for Regional Youth Ben Franklin, alongside Member for Northern Tablelands Adam Marshall, today visited the BackTrack Works social enterprise in Armidale, which is being delivered thanks to $572,760 from the Australian and NSW Government's Bushfire Local Economic Recovery Fund.
Mr Franklin said the project reached a significant milestone with the welcoming of new trainee and first female participant, Hollie Hoade from Guyra.
"BackTrack Works offers a fantastic program that provides young people in the area the skills they need to transition into work, or to upskill into supervisory or leadership roles in their current job," Mr Franklin said.
"The program provides vulnerable young people with technical skills and practical experience across the agriculture, construction, asset maintenance and fabrication sectors and delivers vocational training that aligns with the regional job market.
"I'm delighted to see Hollie come on board today, and I can't wait to see the positive outcomes that will flow on from her traineeship."
Ms Hoade said her traineeship has so far seen her gain experience in rouseabouting, welding, fencing and gardening.
"My dream is to be a rouseabout and work with sheep in shearing sheds," Ms Hoade said.
The Bushfire Local Economic Recovery Fund is one part of the $4.5 billion overarching bushfire support program co-funded by the Australian and NSW Governments for bushfire recovery, response and preparedness in NSW.
Federal Minister for Emergency Management and National Recovery and Resilience, Senator Bridget McKenzie said the program will assist in the ongoing economic recovery in the area.
"This funding will not only facilitate a sustained transition into employment for young people, but it will also support the economic recovery of the New England region and a stronger future by meeting industry demand for qualified, work-ready tradespeople," Ms McKenzie said.
Member for Northern Tablelands Adam Marshall said BackTrack is designed to help young people become independent and give back to their community.
"The program helps provide a personal development pathway that includes ongoing assessment of the specific life and employment skills each young person needs to find their place in a community, keep a job, and to live independently," Mr Marshall said.
BackTrack Works Executive Manager Marcus Watson said Australian and NSW Government funding has enabled them to grow their job training and skills development program.
"This funding has allowed BackTrack to expand its operations and have a broader geographical footprint in the region, furthering our mission of helping as many young people as possible to chase their hopes and dreams," Mr Watson said.
For further information, visit https://www.nsw.gov.au/blerfund
For more information on BackTrack, visit https://backtrack.org.au/