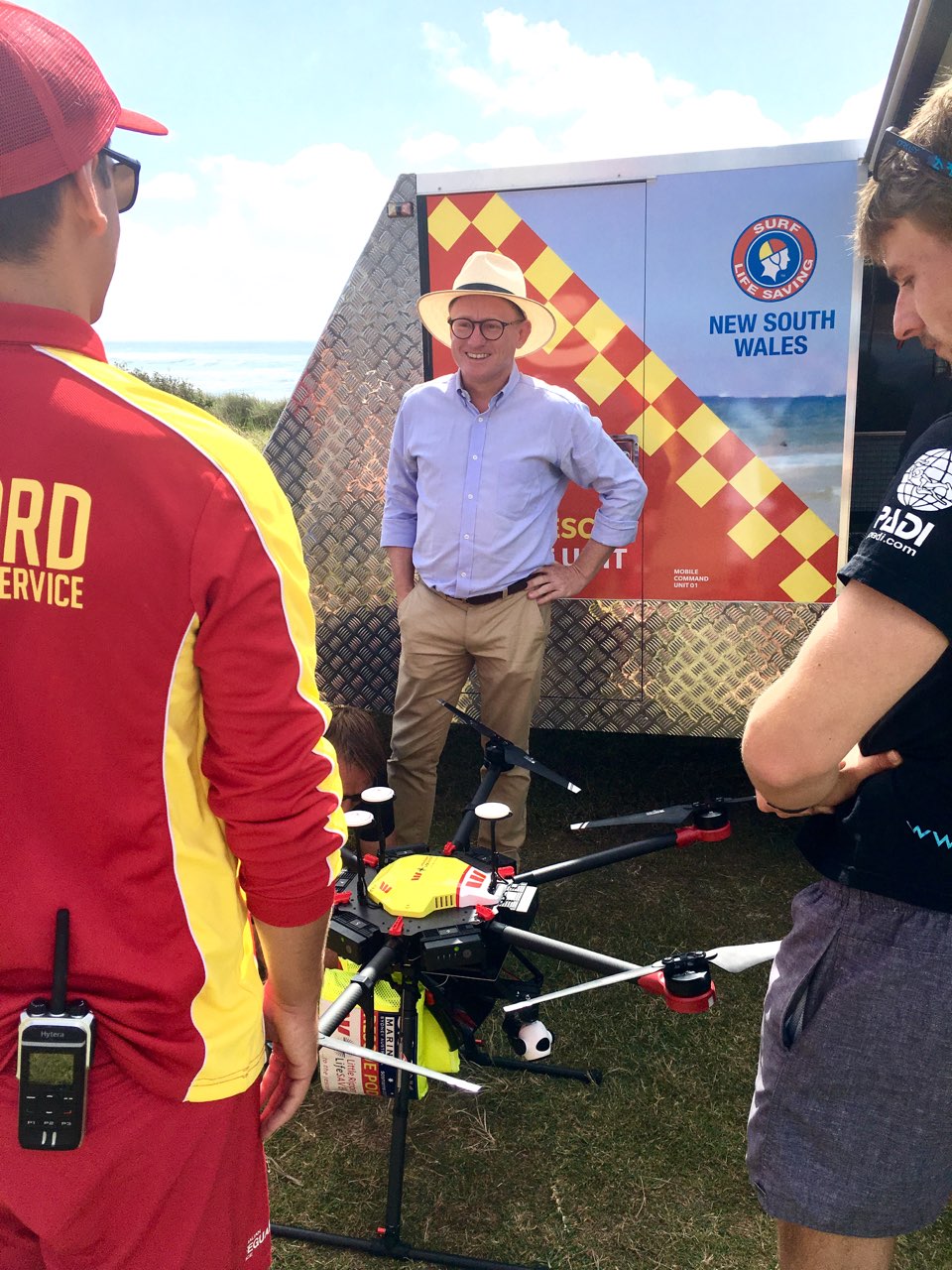 Beaches up and down the Northern Rivers have played a significant role in NSW's Shark Management Program with trials of SMART drumlines, listening stations and drones on our beaches now contributing to the deployment of world's largest suite of shark management tools.
The NSW Government announced this week the Shark Management Program has nearly tripled its funding to $21.4 million and will increase shark surveillance and safety technology at beaches across the State.
Local Nationals Member of the Legislative Council Ben Franklin said the technologies that have been trialled on local beaches would be here to stay with additional resources also coming to the region.
 "Drones, smart drumlines and listening stations will remain a fixture at our beaches and we will continue to be at the forefront of the world's largest suite of shark management tools," Mr Franklin said.
"Trials in our region have helped keep beachgoers safe and I'm proud that our results have helped contribute to management across the State.
"Not only is NSW now home to the world's largest shark management program, but also the biggest domestic fleet of shark-spotting drones across the globe.
"We partnered with Surf Lifesaving NSW to deploy these technologies up and down the coast during the trial periods and I'm thrilled that SMART drumlines, drones and listening stations are here to stay.
"This is good news for our region's coastal communities and while there is no silver bullet for protecting beachgoers from sharks, locals can be assured we are leaving no stone unturned when it comes to their safety."
The measures in Ballina and Richmond valley will remain in place, with the existing 35 SMART Drumlines, drones and listening stations continued through 2021/22. Drone surveillance will be maintained at Byron Bay; Lennox Head; Sharpes Beach; Shelly Beach; Ballina (lighthouse Beach); and Evans Head, with the addition of patrols at Brunswick Heads.
There will be an increase in measures for Tweed and Byron, with the deployment of SMART Drumlines which is being worked through with local councils. Further, in addition to existing drone surveillance at Kingscliff/Cudgen and Cabarita, there will also be patrols at Fingal Heads and Salt Beach.
Mr Franklin said that no other jurisdiction in Australia or across the globe had done as much testing or trialling and that the shark management program is about getting the balance right, between keeping swimmers and surfers safe, and protecting our marine life.
 "Drones have proven time and again to be a vital tool for keeping beachgoers safe from shark attacks. In the past, they have observed approximately 230 sharks and implemented counter measures on another 121 occasions," Mr Franklin said.
"The spring school holidays will see the start of these eyes in the sky protecting beachgoers, with the drones continuing to operate throughout summer and autumn."
The NSW Government encourages all beachgoers to be SharkSmart when entering the ocean or estuarine environments and download the SharkSmart app. For more information on the technologies used, visit www.sharksmart.nsw.gov.au.
The NSW Government's $21.4 million Shark Management Program includes:
The world's largest domestic drone fleet (in partnership with Surf Life Saving NSW);
170 SMART drumlines;
VR4G listening stations in every local government area; and
Shark nets in the Greater Sydney region as part of the Shark Meshing Program