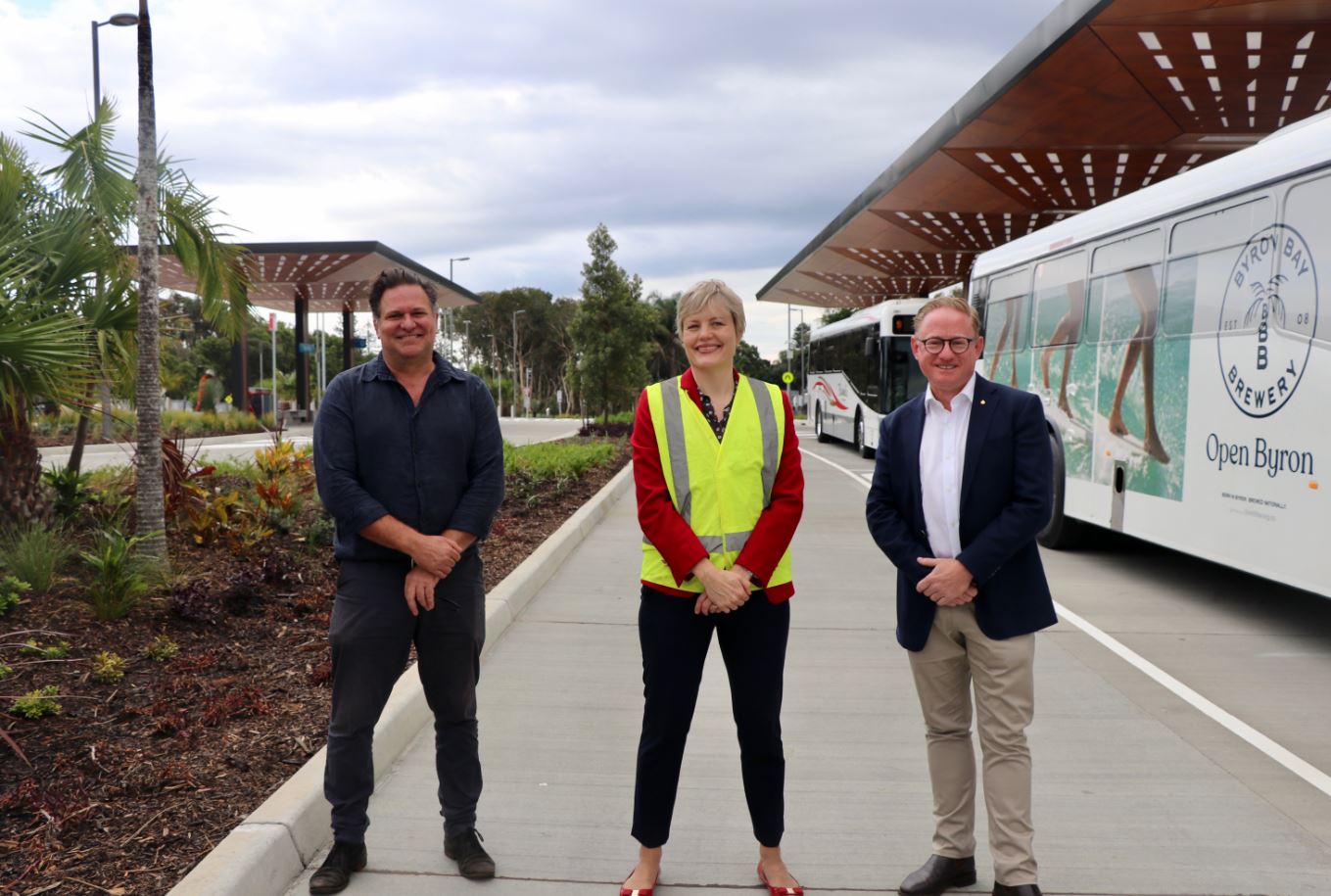 The new $8.4 million Byron Bay Interchange Station is now complete, providing increased accessibility and safety for public transport customers.
Local Nationals Member of the Legislative Council today joined Mayor Simon Richardson to inspect the new interchange ahead of it being open to traffic on Wednesday 28 April.
Mr Franklin said the new interchange will provide more transport and access options in and around Byron Bay and better connect people to the town.
"The new Interchange offers easier pick up and drop off zones for coaches, buses, taxis and rideshare and is about making it more attractive to leave the car at home, Mr Franklin said.
"Not only will these improvements benefit our public transport customers, but road users will also notice reduced congestion in and around the town centre, which is a huge win for locals."
"After a busy school holidays and more visitors than ever with the travel restrictions of last year, it's exciting to today officially unveil the new-look interchange precinct that will better meet the needs of our customers now and into the future."
Works included preserving the iconic heritage water tower and substantial landscaping, incorporating native plants and scrubs.
The project has also supported about 50 people during construction, across engineering, building and administration roles.
Mayor of Byron Shire Council, Simon Richardson, said the opening of the bus interchange was another key achievement in the Byron Bay Town Centre Masterplan which prioritises pedestrians over cars.
"In February this year we opened the Byron Bay bypass which has been an outstanding success with the latest counts revealing a 30 percent decrease in traffic in Jonson Street," Mayor Richardson said.
"The opening of this bus interchange means that congestion will be further reduced and this is a terrific outcome for the community.
"Council commends Transport for NSW for its commitment to delivering this project for the community and integrating it with our projects in the surrounding rail precinct," he said.
The Byron Bay interchange upgrade is one of 470 projects across the state being delivered as part of NSW Government's Transport Access Program (TAP), in which the NSW Government has invested more than $2.2 billion since 2011.
Minister for Regional Transport and Roads Paul Toole said the new interchange, included three dedicated coach and bus bays, improved car parking facilities, a new pedestrian crossing to the town centre, an accessible car space, and an area for kiss and ride and taxi services.
"We know how busy Byron Bay can get – and this new transport hub will make it easier and more attractive for visitors and locals alike to leave the car at home and use public transport," Mr Toole said.
"It's delivered a fully-accessible interchange that meets the need of all customers, including people with a disability or limited mobility, parents and carers with prams, and customers with luggage.
"Upgrades like this ensure that regional centres have the amenities to support growth in public transport usage, and build upon our vision to make public transport a first-choice for everyone living in the regions."
"We're committed to building a safer, stronger regional NSW, and our TAP projects alone will create about 600 jobs right across regional NSW, with contractors looking to engage local suppliers where possible."
For more information on the program, please visit: https://www.transport.nsw.gov.au/projects/current-projects/byron-bay-interchange