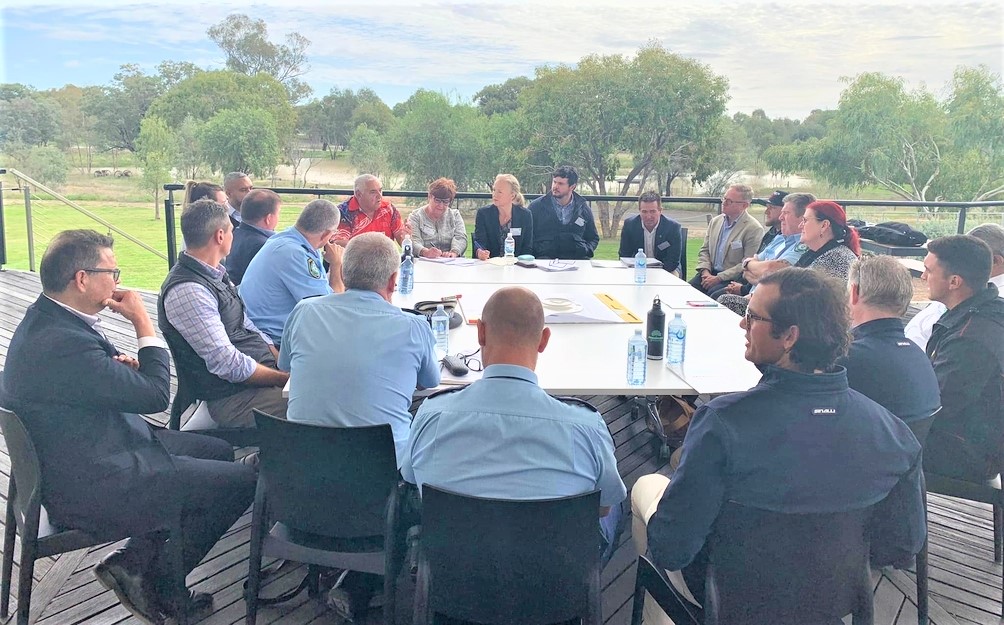 The NSW Government has re-affirmed its support for the Maranguka Community Hub which is empowering Aboriginal community members to drive change and close the gap in Bourke.  
Minister for Health Brad Hazzard and Minister for Aboriginal Affairs Ben Franklin today visited Bourke and met with the Maranguka Cross Sector Leadership Group and Bourke community to support the Maranguka Community Hub.
Mr Hazzard, who was appointed by former Premier Mike Baird as Ministerial Champion for Maranguka, is a passionate supporter of the Maranguka model.
"Maranguka works because it is led by Aboriginal people, for Aboriginal people. I am pleased to be here with my colleagues, listening to the issues and hearing first-hand the achievements and ongoing challenges of Maranguka to date," Mr Hazzard said.
The Maranguka Community Hub has established itself as an independent not-for-profit organisation, under the guidance of the Bourke Tribal Council and its Board.
Mr Hazzard said that working with the Bourke Tribal Council, the focus is on driving healthcare, housing, justice and educational opportunities in direct discussions with the most senior levels of government.
Mr Franklin said the locally-driven initiative redirects resources into projects that empower residents and community members.
"I am delighted to be here in Bourke to see first-hand how initiatives like the Maranguka Community Hub inspire greater self-responsibility," Mr Franklin said.
"By working alongside organisations like Bourke Shire Council and Bourke Tribal Council, Maranguka Community Hub is an excellent example of local collaboration to improve outcomes and create better support for vulnerable Aboriginal children and families.
"What is critical is that these initiatives are implemented in the spirt of co-design and as part of a community-led strategy. I acknowledge the foundational role of the Bourke Tribal Council and Maranguka's Growing Our Kids Up Safe Smart and Strong Strategy."
The NSW Government has announced more than $8.4 million in grants to 67 Aboriginal businesses and community-controlled organisations across the state as part of the Closing the Gap NSW Implementation Plan.