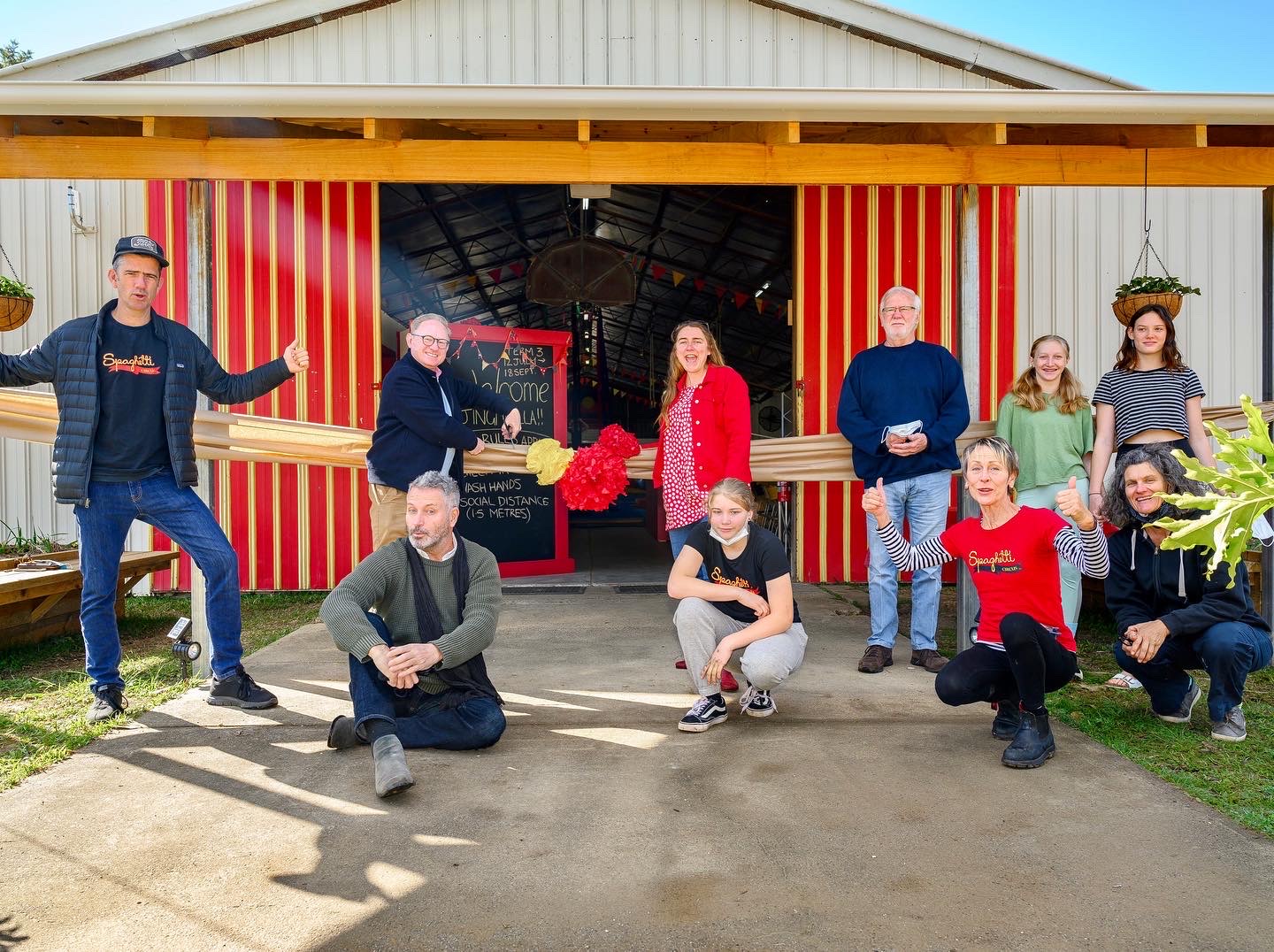 A new-look 'Spaghetti Shed' is now a reality with the renovated space officially opening at Mullumbimby Showground.
The Showground received $236,600 in funding from the NSW Government Showground Stimulus Package to renovate an existing pavilion and adjoining food hall and turn it into a fun and practical space for Spaghetti Circus.
Nationals Member of the Legislative Council Ben Franklin joined Spaghetti Circus Director Alice Cadwell and her team at the opening to celebrate and to announce further funding from the NSW Government's Regional Event Activation Fund.
"From an ageing pavilion to a fantastic new space for Spahgetti Circus, there is now more opportunities for creativity and fun," Mr Franklin said.
"It was the cherry on top to announce further funding on behalf of the NSW Government for Spaghetti Circus to host the spectacular National Circus Festival.
"This additional funding means better facilities and a bigger venue capacity which will be game-changers for the National Circus Festival, and will help attract visitors from all corners of the state and beyond.
"Spaghetti Circus have created such a positive movement for young people, performers and tourism opportunities alike. We are very lucky to have such a passionate team directed by the incredible Alice Cadwell right here in our own backyard.
"It's exciting to see so many young talented performers coming to Mullumbimby and the opportunity for everyone to experience the extraordinary magic of circus here in the beautiful Northern Rivers."
Deputy Premier and Minister for Regional NSW John Barilaro said NSW Government's support will boost local and regional performing arts and highlight the Spaghetti Circus' important role as a leading regional youth arts organisation.
"This funding will help the National Circus Festival to deliver an exciting week of events and it's a great opportunity to celebrate how local organisations like the Spaghetti Circus continue to enrich the lives of many young people living in regional NSW," Mr Barilaro said.
Mullumbimby Showground Land Management Board member and Spaghetti Circus General Manager Alice Cadwell said the grant has breathed new life into the Showground facilities.
"The buildings look so much better now, they have been rejuvenated with new outdoor areas where you can sit and work and enjoy the sun and the inside of the buildings look like a million bucks," Ms Cadwell said.
"Spaghetti Circus customers come into the old shed and are blown away by how good it looks. They wonder if they've walked into the right building.
"The Regional Event Activation grant and NSW Government support for the National Circus Festival are fundamental in providing world-class artists at the 2021 Festival. It has enabled us to work with the Mullum Music Festival, Brunswick Picture House, Gravity and Other Myths, and have the confidence to bring this boutique Covid-safe event to life."
The Showground Stimulus Funding was part of the NSW Government's $2.3 billion Health and Economic Covid-19 Stimulus Package to support communities by creating jobs, improving infrastructure and promoting sustainability and longevity of showgrounds across NSW.
The $20 million Regional Events Acceleration Fund is part of the $2 billion Regional Growth Fund, designed to support growing regional centres, activate local economies and improve services and community infrastructure for regional communities.