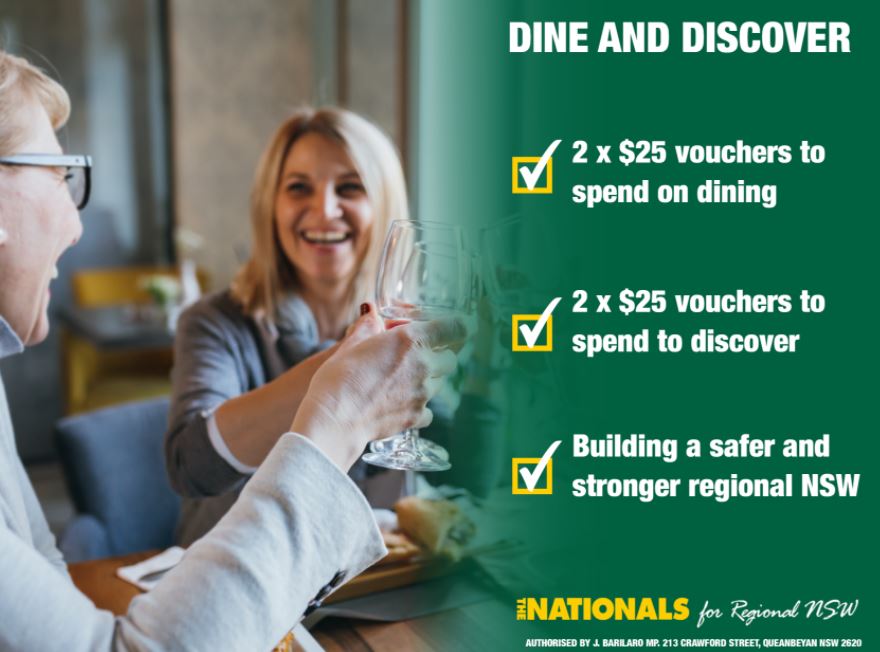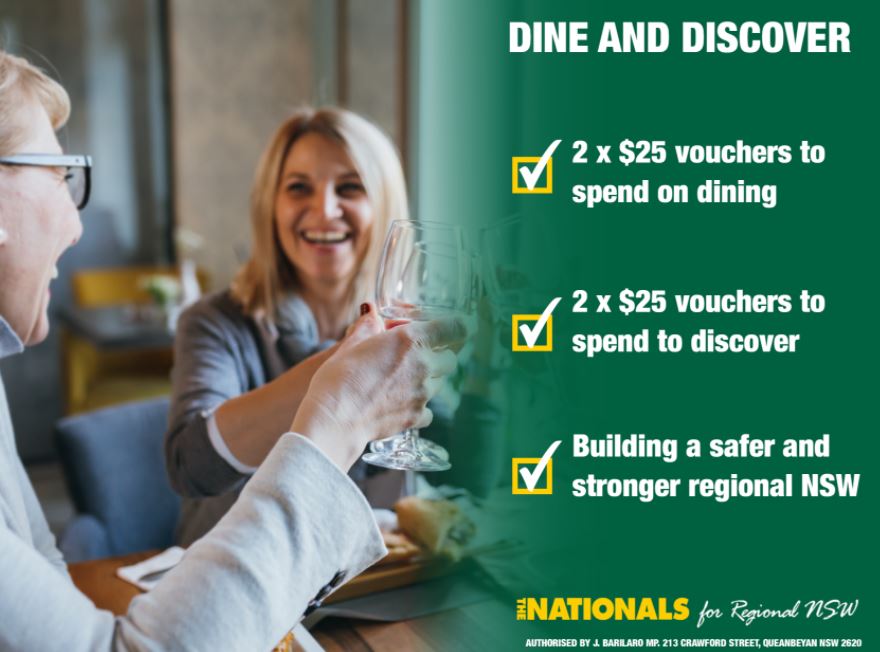 Every NSW resident aged 18 and over will be eligible for four $25 Dine and Discover vouchers to spend at participating local businesses.
Worth $100 in total, each resident will be able to use these vouchers for dining out and entertainment which will help local businesses get back on their feet.
Local Nationals Member of the Legislative Council Ben Franklin said the Dine and Discover vouchers are totally free for residents and are designed to help the hospitality and tourism industry recover after a tough 12 months.
"The program is live right now across the Local Government Areas of Ballina, Byron, Kyogle, Lismore and Tenterfield and Tweed as well as plenty of other locations in NSW," Mr Franklin said.
"Whether it's a café, restaurant, cinema or gallery, these industries have been hit hard by the pandemic, but these vouchers will encourage more customers to come through the door and spend.
"The vouchers are simple and easy to use, with customers able to spend them via the Service NSW app. The app is seamless, contactless and safe."
NSW residents will be able to easily apply online to receive their vouchers through the latest version of the Service NSW app and website, and customers who do not have access to a smartphone and/or computer can call Service NSW on 13 77 88 or visit a local Service NSW Centre.
Dine & Discover NSW vouchers will be divided into two categories:
Two $25 vouchers to be used for eating in at restaurants, cafes, bars, pubs and clubs 7 days a week, excluding public holidays.
Two $25 vouchers to be used for entertainment and recreation, including cultural institutions, live music, and arts venues, available 7 days a week, excluding public holidays.
It's not too late for businesses to register and vouchers are valid until 30 June 2021.
The vouchers can only be used at eligible businesses that have registered for Dine and Discover, that have implemented a COVID Safety Plan and are registered as COVID Safe.
Eligible residents looking to access their vouchers or businesses wanting to be involved in the program can visit https://www.service.nsw.gov.au/campaign/dine-discover-nsw to apply and register.