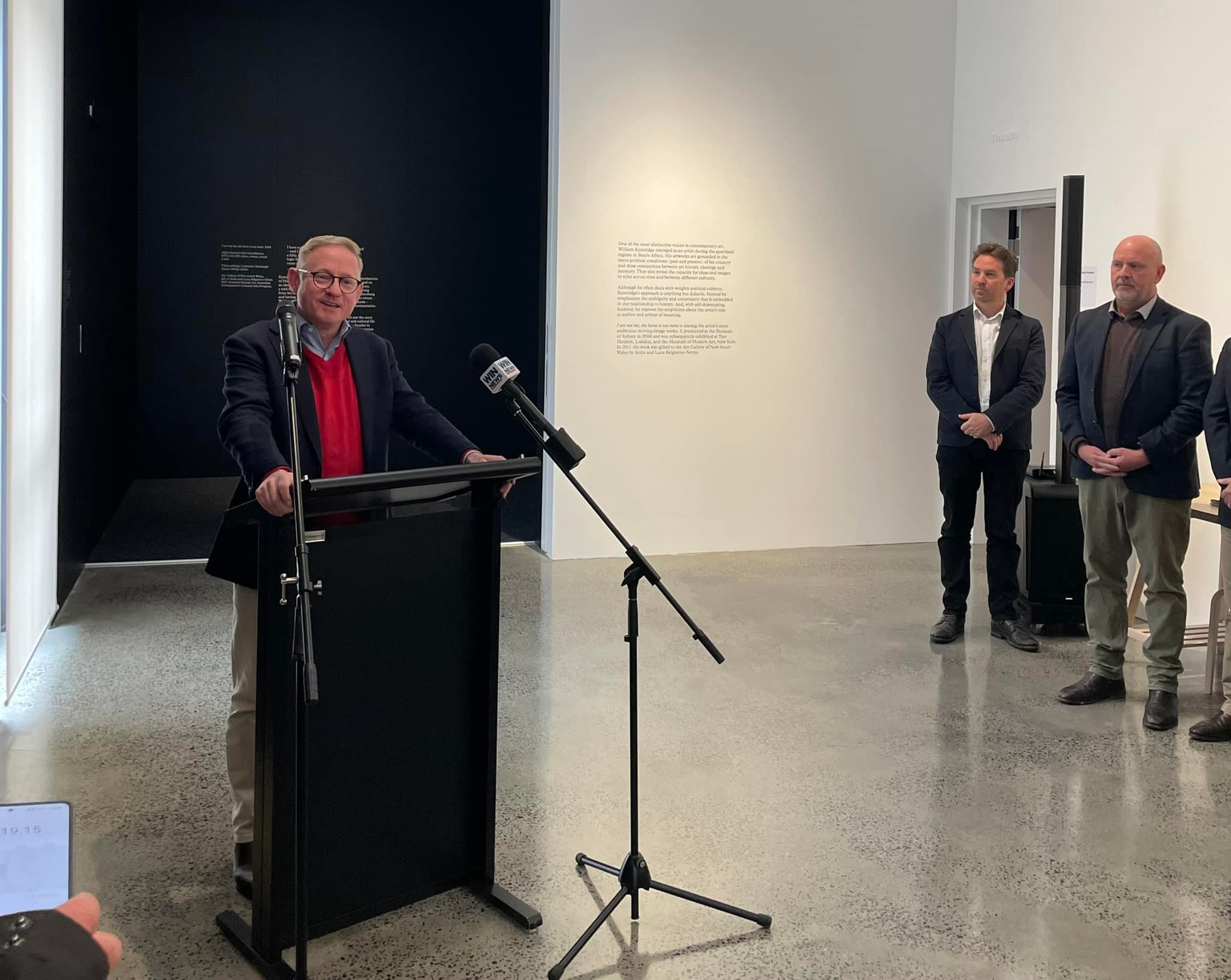 Regional communities will be able to experience two major Art Gallery of NSW exhibitions thanks to funding provided through the NSW Government's $40 million Blockbuster initiative.
The three-year touring program will fund two major exhibitions – the inaugural Wynne Prize regional tour, which will visit 12 regional galleries up until 2025, and an extended regional tour of William Kentridge: 'I Am Not Me, The Horse Is Not Mine'.
Funding of the two touring exhibitions is part of the Government's commitment to making the Arts more accessible across regional NSW.
Deputy Premier and Minister for Regional NSW Paul Toole and Minister for the Arts Ben Franklin announced the funding at Orange Regional Gallery where the Kentridge exhibit is currently on display, before touring to four more regional galleries until 2024.
Mr Toole said the touring program will deliver significant benefits for regional communities.
"These two outstanding exhibitions will deliver truly exceptional art experiences to the regions and have the power to inspire and build stronger communities," Mr Toole said.
"Regional art galleries are already making significant contributions to the cultural life of their communities, and having the opportunity to host these remarkable exhibitions will help play a key role in the revitalisation of their local economies."
Mr Franklin said introducing the globally renowned work to regional audiences will have a lasting and positive impact on their communities.
"The Wynne Prize and the works of William Kentridge are two incredibly important and prestigious art exhibitions. I am proud funding made possible through the Blockbuster initiative will open up these experiences to audiences across the state," Mr Franklin said.
"The NSW Government is committed to supporting regional arts and cultural organisations. The hosting of these major exhibitions will become a highlight of the regional NSW cultural events calendar, and I am excited to see them drive visitation to the regions."
Orange Regional Gallery Director Brad Hammond said it is vitally important regional audiences experience the work of major contemporary artists first-hand in their own backyards.
"The response from our community to I Am Not Me, The Horse Is Not Mine by William Kentridge has been incredible, and the experience of seeing it here in the region will be remembered by people of all ages for years to come," Mr Hammond said.
The inaugural Wynne Prize regional tour will open at the Bank Art Museum Moree in September 2023. The William Kentridge regional exhibition can be seen at Orange Regional Gallery until 26 June and will open at Gosford Regional Gallery in June 2023.