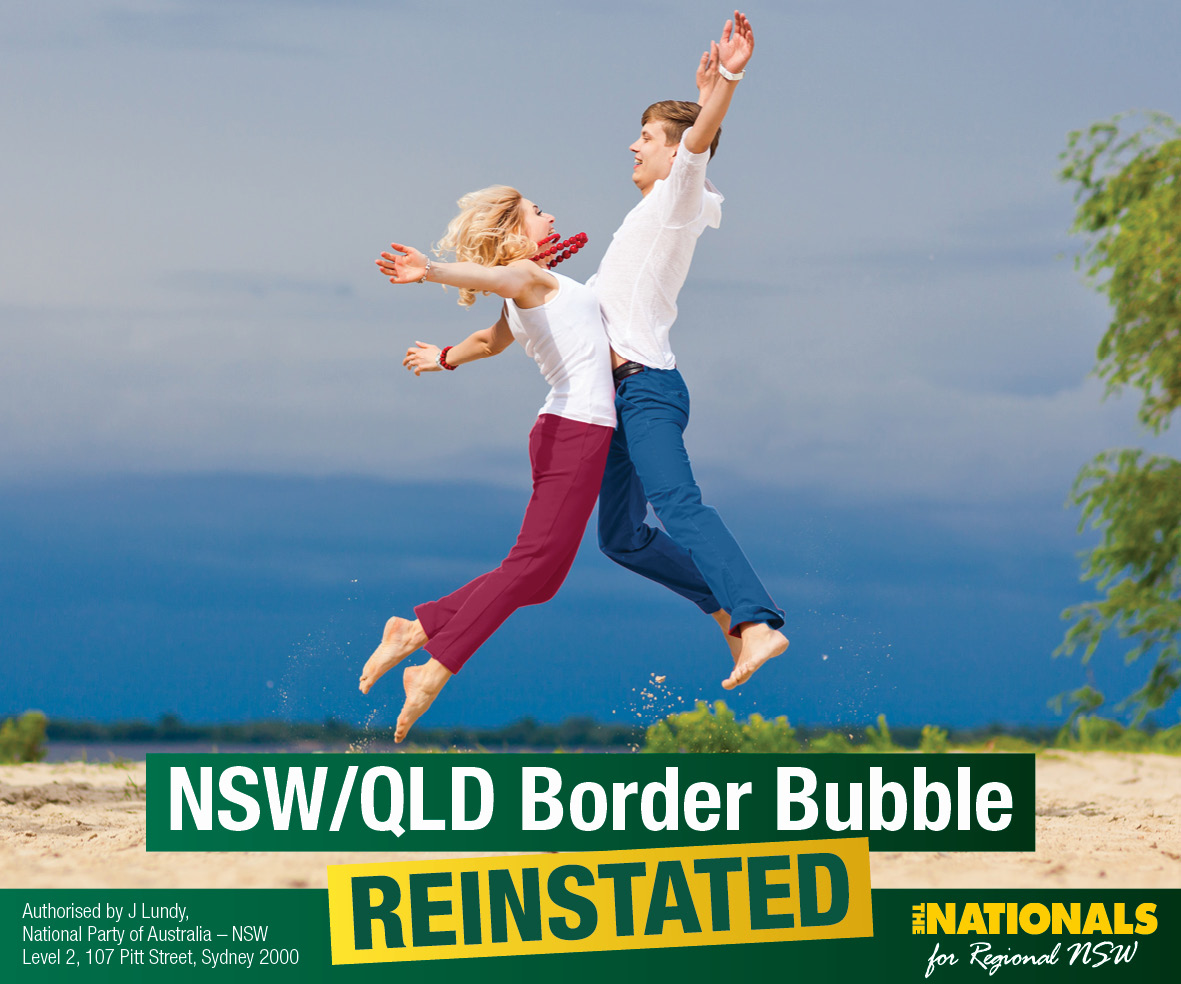 Local Nationals Member of the Legislative Council Ben Franklin has welcomed news that the border bubble will be reinstated from 1am Monday 13 September, and the return to normal life this will provide to local residents.
Mr Franklin said the 12 Local Government Areas (LGAs) included in the border bubble are Ballina, Byron Bay, City of Lismore, Clarence Valley, Glen Innes Severn, Gwydir, Inverell, Kyogle, Moree Plains, Richmond Valley, Tenterfield and Tweed.
"As outlined by the Queensland Government today NSW residents can cross the border for essential work, school, essential shopping, medical reasons or caring for people," Mr Franklin said.
"For weeks I have been arguing that we need a border bubble in our region and the announcement that is has finally been reinstated is incredibly welcome.
"The impacts of the border closure imposed by the QLD Government have deeply impacted the lives and livelihoods of our residents and I am grateful that the intense restrictions on border movements will be reduced.
"The National Plan that has been agreed to by states and territories to reopen their borders relies on high double dose vaccination rates and now is the time for Northern Rivers residents to roll up their sleeves and help us all get back to a more normal way of life."
Essential work means any work or volunteering that cannot be reasonably done from home and people crossing the border for essential work will need to have had at least one dose of a COVID-19 vaccine. Unfortunately NSW residents are not able to cross the border for recreation or social visits.
Deputy Premier and Minister for Regional NSW John Barilaro said an agreement to include 12 LGAs in the border bubble was reached following discussions with Queensland Deputy Premier Steven Miles.
"There's no doubt that our border communities have copped the brunt of these border closures, and the reintroduction of the border bubble will provide a long overdue sense of normality for locals," Mr Barilaro said.
"We've been able to reach this agreement because Northern border residents have done such a great job abiding by the lockdown rules. I thank you all so much and I encourage everyone to keep getting vaccinated to continue to unlock new freedoms in our communities."
Residents will still require a Border Zone Travel (X Pass) to cross the border, which can be obtained at www.qld.gov.au/border-pass