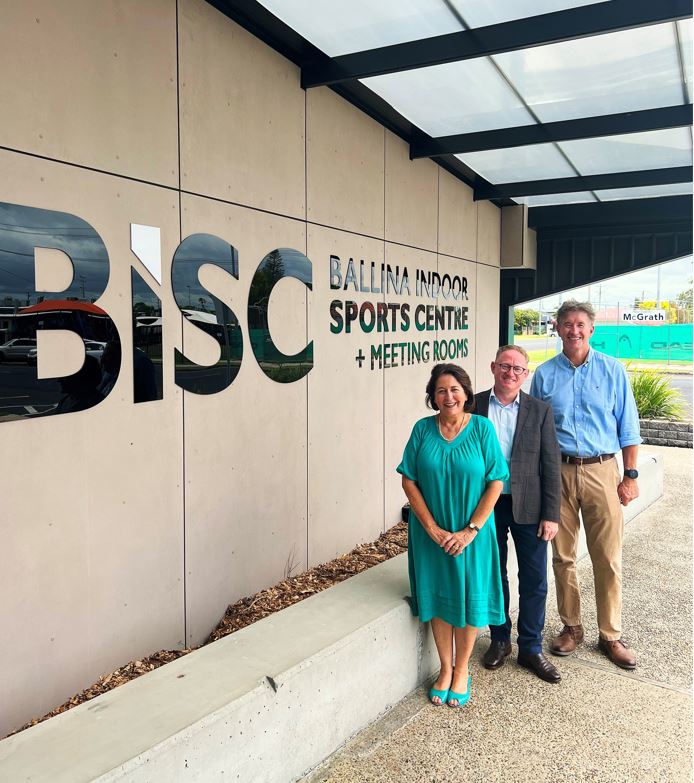 One of the most popular sporting venues in the region will soon have a new air ventilation system to keep players cooler on court.
The Ballina Indoor Sports Centre (BISC) will receive $155,000 from the NSW Government's Stronger Country Communities Fund to install the new system.
Minister for Regional Youth Ben Franklin said the project would make the courts more comfortable all year round and give more people in the community the opportunity to play sport.
"This investment is a huge win for every current and future sport player in town, and paves the way for greater participation in local sport all year round," Mr Franklin said.
"There are about 500 netball players who use the centre and I'm sure they are thrilled about soon being able to play in a cooler environment.
"We know that modern facilities are needed to ensure people continue playing sport in our towns and this investment will keep people coming through the doors well into the future.
Ballina Shire Council Mayor Sharon Cadwallader said this funding would make a big differerence to everyone who uses the BISC which caters for local schools and junior and senior players of all ages and offers sports including netball, basketball, volleyball and pickleball.
"Ballina Shire Council is delighted to receive this funding from the NSW Government today, which will provide much needed air ventilation system for the Ballina Indoor Sports Centre (BISC) to improve player comfort in the warmer months of the year," Cr Cadwallader said.
"We hope that lower temperatures on the courts attract more players to the BISC too!"
The Stronger Country Communities Fund is delivering new and upgraded facilities, infrastructure and programs that make a big difference to everyday life for people in coastal and country towns across the state.
Since 2017, the Stronger Country Communities Fund has invested over $500 million into regional NSW to support upwards of 1,900 local projects.