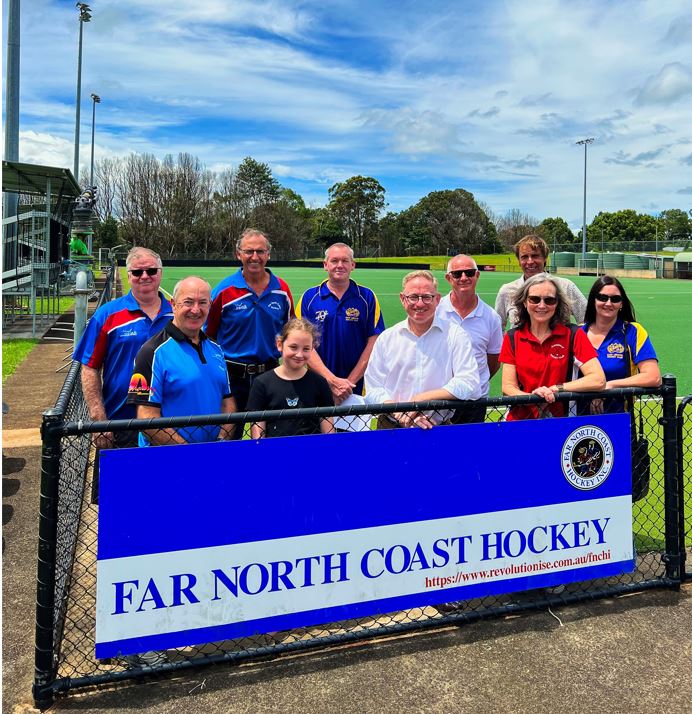 The Far North Coast Hockey Association has received $77,876 from the NSW Government's Stronger Country Communities Fund to build a children's playground at the fields in Goonellabah and support parents to continue to play sport locally.
The new playground at the Lismore Hockey Fields will mean parents are able to bring their children to games and training, knowing there is a safe place for them to play.
Minister for Regional Youth Ben Franklin said the project will provide a more welcoming and safe sporting environment for all parents, but especially mothers, with young children.
"Balancing looking after children and being involved in community activities such as sport can be tough as a parent and so it is great to see the Far North Coast Hockey Association take this wonderful initiative to install a children's playground on site," Mr Franklin said.
"Removing barriers for parents to becoming involved in sport, especially mothers, creates a more inclusive environment and ensures that opportunities are available for everyone in our region.
"Infrastructure such as this plays a crucial role in keeping our communities healthy, active and connected and I am thrilled the NSW Government has been able to support this project."
Far North Coast Hockey President Nathan Kesteven said receiving the funding is excellent news for the Association.
"Far North Coast Hockey is extremely pleased and grateful to have received funding for the children's playground under the Stronger Country Community Fund," Mr Kesteven said.
"FNC Hockey has a long history of encouraging and supporting all ages and genders to play our great sport. This playground will give the young kids who are at our Lismore facility the chance to play in a safe and secure location, within our grounds. Just as importantly, this will support all the parents and carers of the youngest members of our hockey community."
The Stronger Country Communities Fund has invested $500 million in regional NSW communities since 2017.
Sporting projects that support women are the big winners in this latest funding round with about half of the $100 million investment dedicated to delivering 189 female sporting projects.