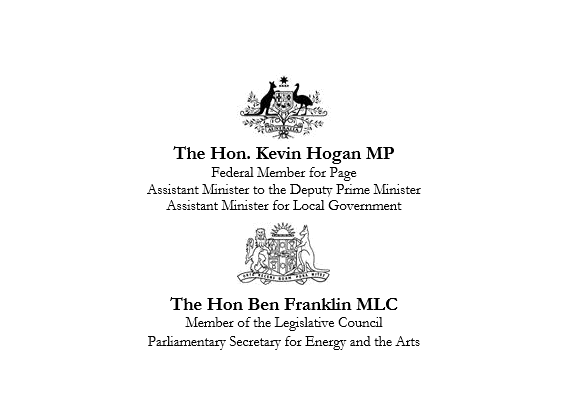 The Federal and State Government have today announced $7.5 million combined funding for important projects in the Kyogle Shire.
Federal Member for Page Kevin Hogan said the projects will boost economic recovery and create jobs in our community.
"$6 million will be spent constructing a new multi-purpose community sports stadium in Kyogle," Mr Hogan said.
"This centre will include a sports hall with a basketball court, a gym, a dance studio, a 25m pool. It can also function as an emergency evacuation centre in times of natural disaster."
State Member of the Legislative Council Ben Franklin said it is important our community facilities are of a high standard.
"$1.5 million will be spent between Woodenbong, Tabulam and Bonalbo for the Resilient Safer Places project," Mr Franklin said.
"This project aims to improve the existing major open spaces in the fire affected villages. It will ensure each community has access to a safe functional area that provides increased recreational opportunities as well as a place of refuge during adverse events." 
Kyogle Council Mayor Danielle Mulholland welcomed the funding by the Federal and State Government.
"These projects will make a big difference locally, creating opportunities to increase tourism, employment and economic recovery, as well as  building community cohesion and making us more resilient in times of crisis," Cr Mulholland said.
The Federal and State Government will provide a combined $5.5 million, with Kyogle Council contributing $2 million across the projects.
The Bushfire Local Economic Recovery Package is one part of the $4.5 billion overarching bushfire support program co-funded by the Australian and NSW Governments for bushfire recovery, response and preparedness in NSW. For further information, visit www.nsw.gov.au/blerfund