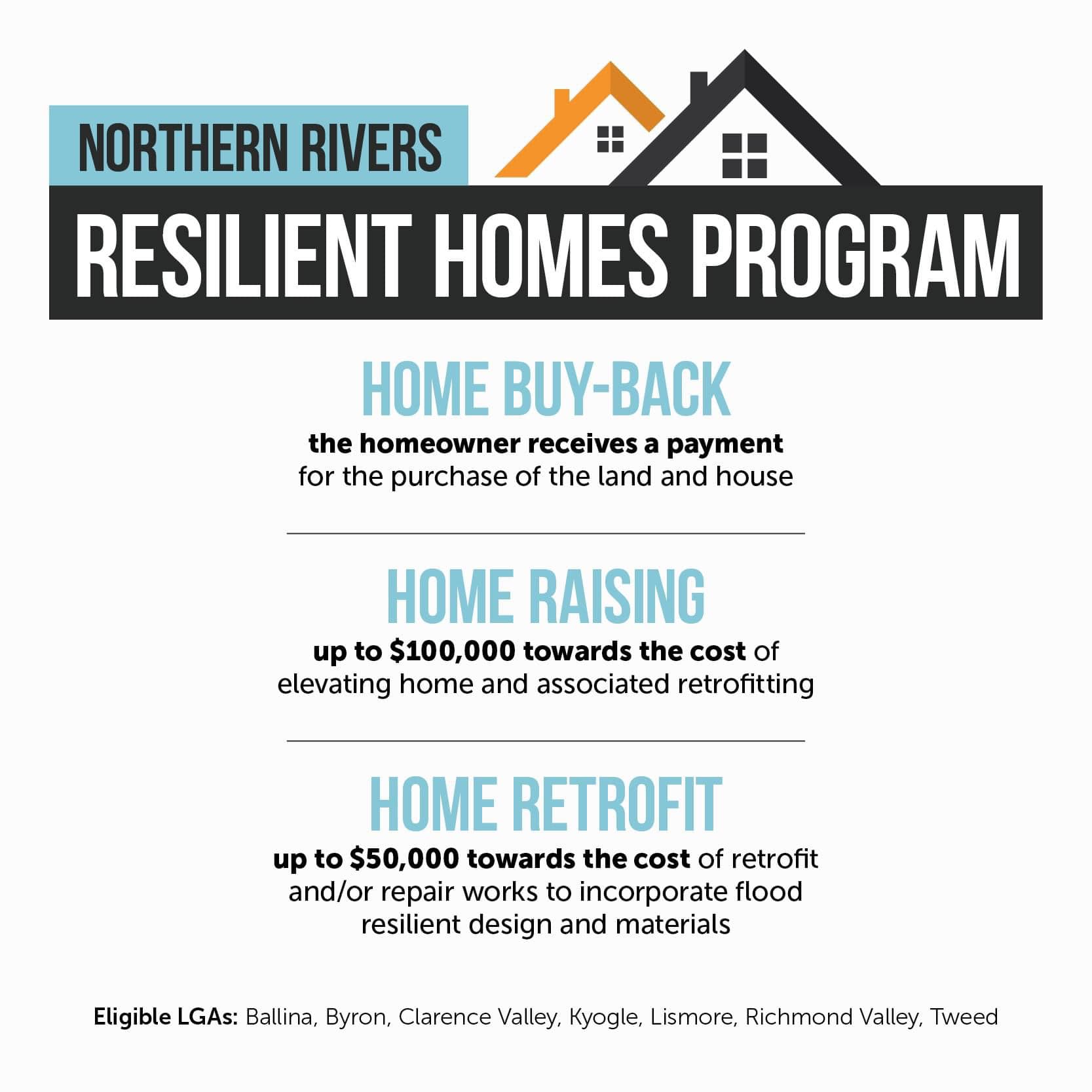 Resilient repairs, retrofitting, house raising and voluntary buybacks will be offered to eligible flood-impacted homeowners as part of ongoing recovery efforts and commitment to build back better and reduce future risk. 
The Federal and NSW Government's Resilient Homes Program will offer voluntary buybacks to residents located in the Northern Rivers' most vulnerable areas, where major flooding would pose a catastrophic risk to life.
Financial assistance of up to $100,000 for house raising or up to $50,000 for retrofitting will be offered to homeowners in areas where building back better will reduce the impact and damage caused by flooding in the future.
The NSW Government will offer eligible homeowners one of the three available measures, based on expert property assessments, flood impact severity data, safety risks and potential future flood levels.
NSW Premier Dominic Perrottet said building back better repairs and retrofitting includes placing electrical wiring higher, installing circuit breakers between levels, replacing timber with concrete and building solid walls instead of hollow cavities.
"This program balances the community's desire to stay together with the need to deliver homes that will be resilient to future flooding and, where necessary, buy-back properties to ensure homes are out of harm's way," Mr Perrottet said.
Deputy Premier and Minister for Regional NSW Paul Toole said offers to individual homeowners will be based on extensive analysis of the spread and extent of damage of the 2022 floods and expert advice on the likely impact of subsequent flood disasters.
"We have identified areas where house raising will prevent homes from being inundated by flood waters, dramatically reducing future potential damage and repair costs while also enabling people to stay in their community," Mr Toole said.
Local MLC Ben Franklin welcomed this announcement for the Northern Rivers and said this will allow people to make a decision about their future.
"Flood-affected residents now have the chance to raise, repair, retrofit or to have their home bought back," Mr Franklin said.
The Federal and NSW Government's co-funded Northern Rivers Resilient Homes Fund will support residential homeowners impacted in the February-March 2022 floods, in the seven Local Government Areas of Ballina, Byron, Clarence Valley, Kyogle, Lismore, Richmond Valley and Tweed.
For information about the program go to: www.nsw.gov.au/nrrc.