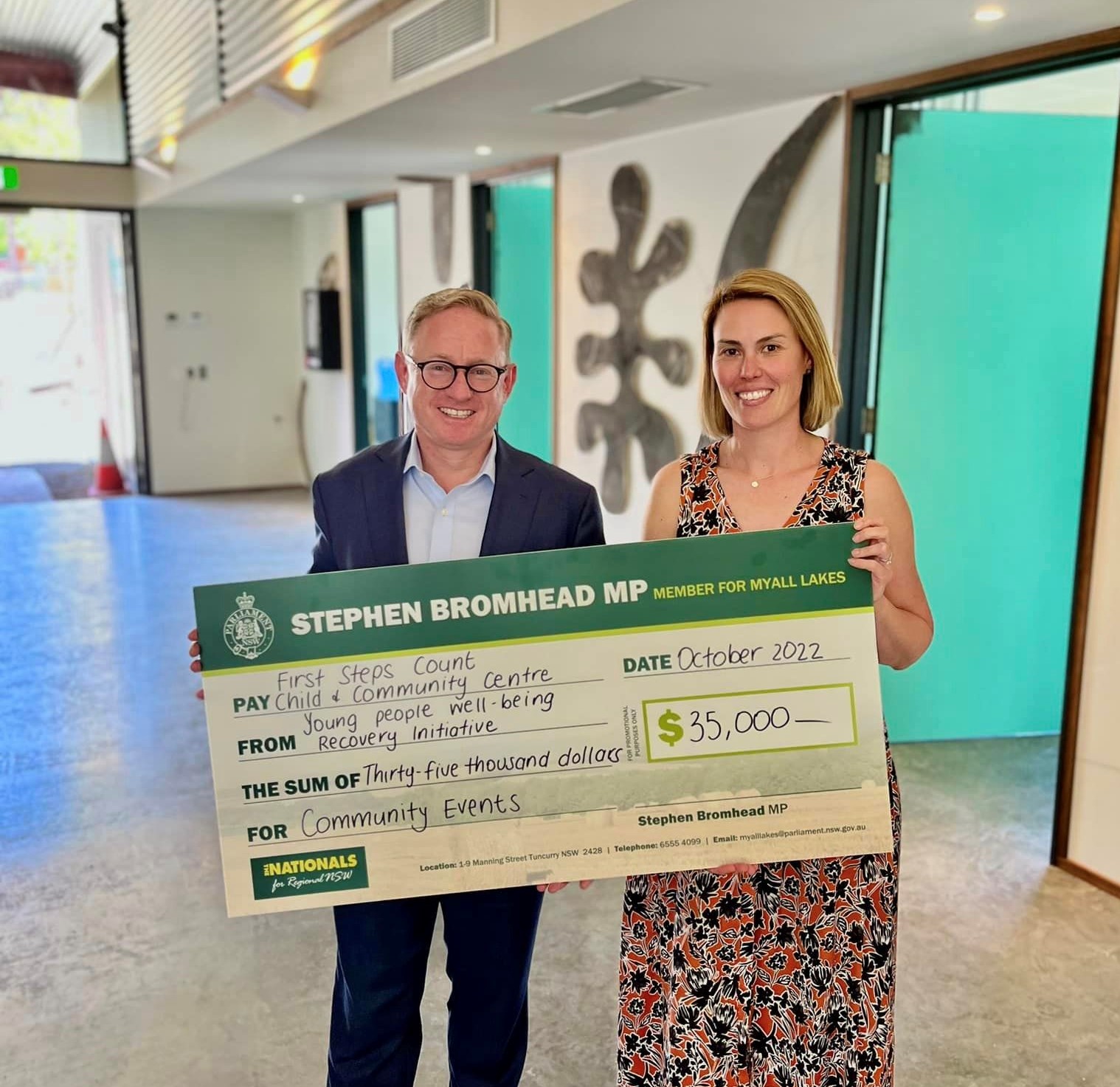 First Steps Count Child and Community Centre have received $35,000 as part of the NSW Government's Children and Young People Wellbeing Recovery initiative.
Member for Myall Lakes Stephen Bromhead said the funding will be used to run workshops and community events that will help support recovery and boost resilience for young people in the region following the impacts of natural disasters and COVID-19.
"I'm thrilled to announce support for these projects that will help young people in our community bounce back stronger than ever in the wake of natural disasters and COVID-19 disruptions" Mr Bromhead said.
"First Steps Count have received more than $2.5 million funding from the NSW Government. The Centre will be a game-changer in our region by being one of the first collaborative hubs, which will deliver funded programs and services in a more coordinated way.
"This additional funding from the Children and Young People Wellbeing Recovery Initiative will continue to ensure that once the centre is open, they will be able to host events such as weaving workshops, Making Rainbows, Koori Cookoff, a podcast created by and for children, monthly community barbecues and family movie nights" Mr Bromhead said. 
Minister for Regional Youth Ben Franklin made the funding announcement in Myall Lakes today and said the Initiative aims to improve access to programs and resources to help young people recover, build resilience, strengthen community networks and improve mental health and wellbeing.
"Our Regional Youth Community Coordinators will help connect young people with the projects that best support their wellbeing and recovery and foster resilience and connection," Mr Franklin said.
The $10.3 million Children and Young People Wellbeing Recovery Initiative is funded through the NSW COVID-19 Economic Recovery Initiative and the co-funded NSW and Australian Government's Disaster Recovery Funding Arrangements.
Large grants between $10,000 and $50,000 fund projects such as community events, peer support groups, cultural connection or partnership programs, while small grants for up to $10,000 are available for initiatives like sporting programs and barbecues
Eligible applicants are encouraged to apply for funding for wellbeing programs, events and resources as part of the initiative.
Applications for both large and smaller grants are open now and close on 31 December 2022, or when fully allocated.
For program and eligibility guidelines, visit nsw.gov.au/YouthWellbeing.