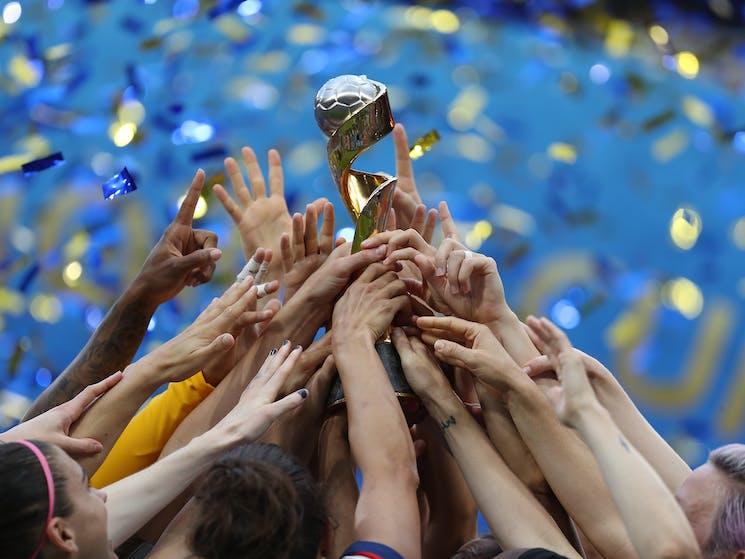 The official draw for the FIFA Women's World Cup Australia & New Zealand 2023TM took place in Auckland over the weekend, with Sydney announced to host Australia, England, France, Germany, Denmark, Republic of Ireland, Columbia, Jamiaca and Korea Republic.
Minister for Sport Alister Henskens said the FIFA Women's World Cup 2023TM will bring the best players from across the globe to NSW as they compete for the prestigious title of world champions.
"With the draw now done, tournament preparations ramp up another notch and I'm delighted to welcome the teams' officials to NSW, and to Sydney, as they commence their multi-day tour of stadiums and training sites," Mr Henskens said.
"The tournament will not only provide sports lovers the opportunity to witness the world's best football players battle it out on the world stage, but also inspire future generations of Matildas. 
"This is going to be the best World Cup to date, cementing NSW as the premier sporting state of Australia. We can't wait to welcome fans and visitors to Sydney cheering on their teams and celebrating the footballing skills of the largest women's tournament in the world."  
Minister for Tourism Ben Franklin said the world's largest women's sporting event in the world will be a major drawcard for international visitors and bring thousands of tourists into NSW.
"Events like the FIFA Women's World Cup are key to the vitality of Sydney and make a significant contribution to the NSW economy by attracting thousands of fans, players and support staff to our State, who stay in our hotels, visit our attractions and spend in our retail, dining and hospitality businesses," Mr Franklin said.
"I'm incredibly proud that through the NSW Government's 10 World Cups in 10 Years initiative, Sydney will host 11 matches including knockout rounds and the Final on 20 August 2023.
"The NSW Government is committed to delivering world-class events like the FIFA Women's World Cup to achieve our goal of making Sydney and NSW the major events capital of the Asia Pacific."
FIFA Women's World Cup COO (Australia) Jane Fernandez said that the FIFA Women's World Cup Official Draw is a monumental milestone on the road to the tournament in 2023.
"We now know where each of the 32 teams will begin their journey and, importantly, who is coming to Sydney," Ms Fernandez said.
"We are excited to see each and every one of these teams in action next year and I look forward to seeing the fans get behind the teams at every venue including the new Sydney Football Stadium.
"We look forward to witnessing history next year for a tournament that will go Beyond GreatnessTM."
More information about the FIFA Women's World Cup 2023 is available online.
Photo – Destination NSW