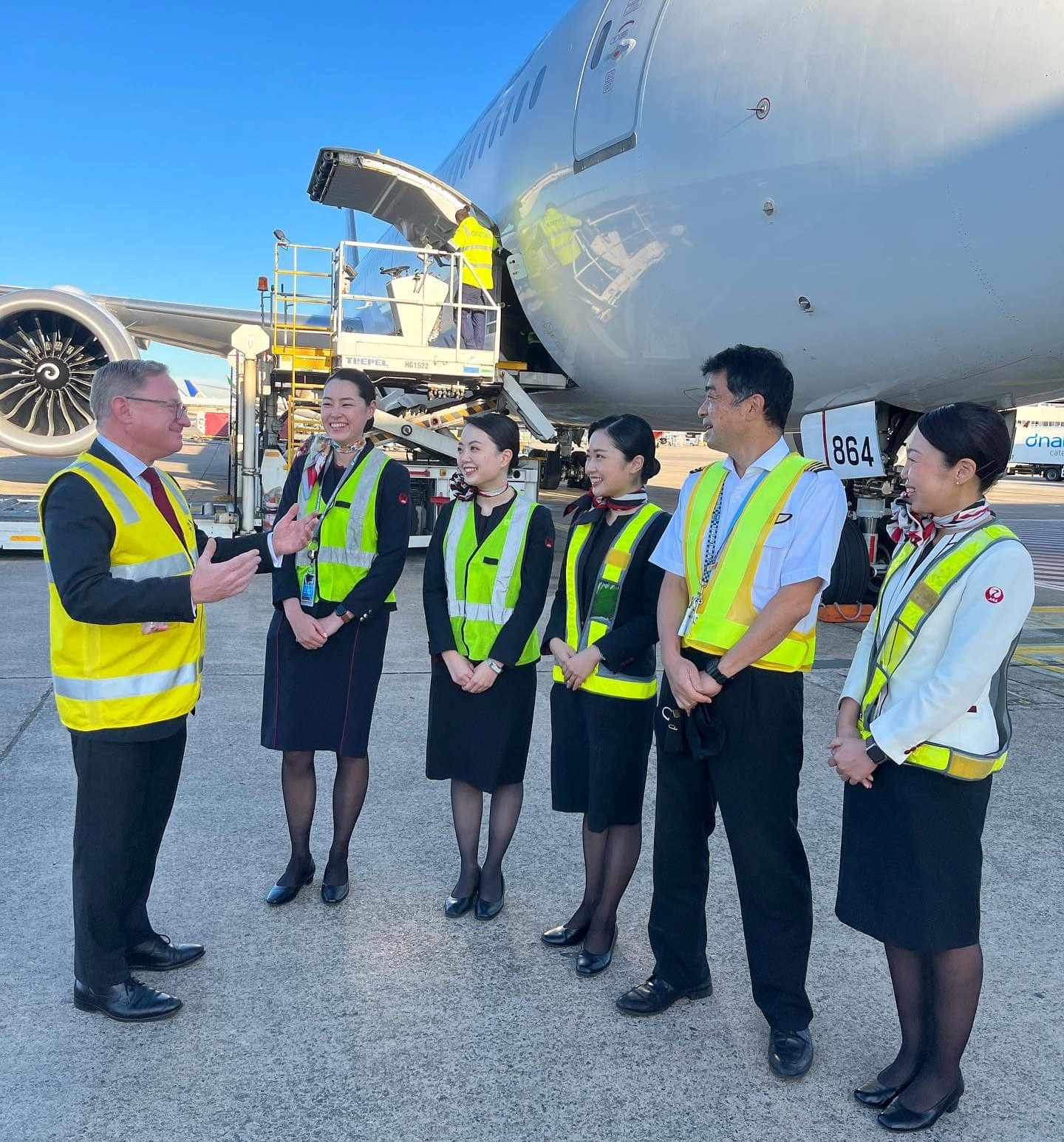 The New South Wales Government's $60 million Aviation Attraction Fund has secured another airline partner with Japan Airlines committing to two new flights per week from Tokyo International Airport to Sydney from October 2022.
Minister for Tourism Ben Franklin said that Japan is a significant trade partner for NSW with huge potential for future growth.
"NSW is ready to welcome more Japanese visitors to our shores and more airline seats will play a vital role in achieving this outcome. Through this new daily Japan Airlines offering from Sydney to Haneda Airport, we can confidently rebuild and exceed pre-pandemic levels of visitation from Japan," Mr Franklin said.
"Having just established a trade hub in the heart of Tokyo we have committed to an even stronger relationship, and it's exciting to see more opportunities for a greater number of visitors to NSW in the months ahead."
Ross Leggett, Deputy Senior Vice President – Route Marketing, International Relations and Alliances at Japan Airlines said he was delighted to partner with the NSW Government and Sydney Airport in the shared goal of increasing the number of visitors to NSW, not only from Japan, but from across the airline's global network.
"This year marks the 53rd year of Japan Airlines' uninterrupted services between Tokyo and Sydney and, with this partnership, we intend to continue in our mission to deliver unparalleled levels of service, comfort and security to all our guests," Mr Leggett said.
Sydney Airport CEO Geoff Culbert said that Japan has long been one of our most important and popular routes.
"We're delighted to support the recovery of this route through our co-investment with the NSW Government's aviation attraction fund," Mr Culbert said.
The NSW Government's Visitor Economy Strategy 2030 identifies Japan as a top 10 core market and prior to COVID-19, Japan ranked 5th in NSW for visitors, and 7th for nights and expenditure.
In the year ending December 2019, NSW welcomed 202,000 Japanese visitors, who stayed 3.4 million nights and spent an estimated $385 million.
"The NSW Government opened applications for the Aviation Attraction Fund program in February with the aim of building aviation capacity across the state," Mr Franklin said.
"Sydney is the gateway to NSW, so supporting the return of airline routes through the Aviation Attraction Fund will be key to our recovery roadmap and achieving our goal of making NSW the premier visitor economy of the Asia Pacific.
"Japanese visitors will make a strong contribution to the NSW Government's goal of $65 billion in visitor expenditure by 2030 and its vision to make NSW the premier visitor economy of the Asia Pacific."
The Aviation Attraction Fund, managed by Destination NSW on behalf of the NSW Government, is open until 30 June 2023. For more information or to submit an application visit www.destinationnsw.com.au/aviation-attraction