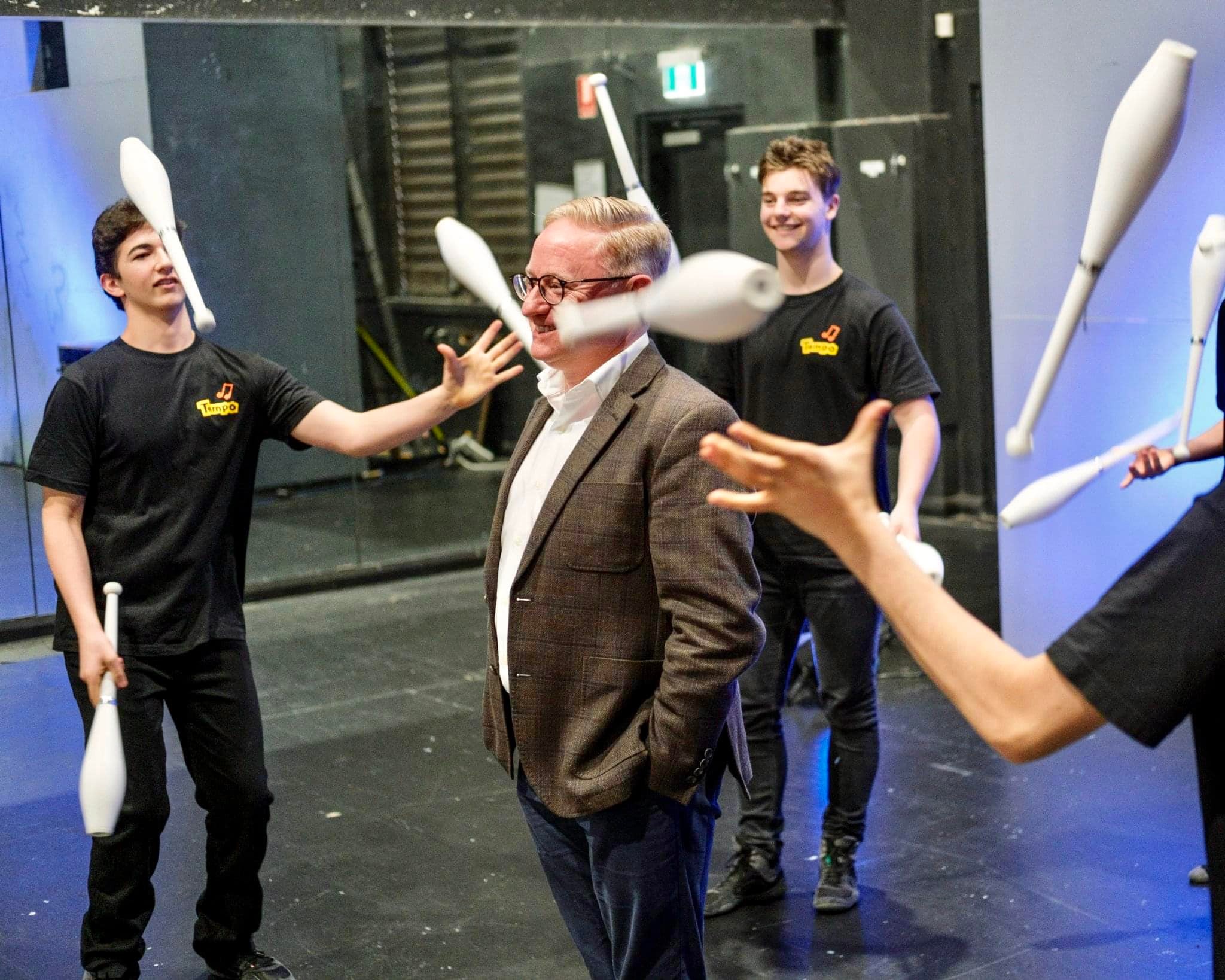 Albury is set to benefit from an extension to the Flying Fruit Fly Circus training facility thanks to a $3.3 million investment through the NSW Government's Creative Capital program.
Minister for the Arts Ben Franklin and Member for Albury Justin Clancy today announced the Borderville Theatre, which houses the Flying Fruit Fly Circus, will be extended to include a new performance space for contemporary circus acts.
Mr Franklin said this investment will fund the construction and fit-out of a flexible studio theatre, dressing rooms, workshop, equipment store and a unique creative space designed specifically for circus and physical theatre.
"The Flying Fruit Fly Circus extension is an important arts infrastructure project that will shape Albury as the premier destination for the development and presentation of contemporary circus works in NSW," Mr Franklin said.
"Cultural equity is at the heart of the NSW Government's Creative Capital program, and thanks to the $72 million investment, more projects like this can realise their ambition of providing more people with access to world-class arts and culture, no matter where they live in the state.
"The people of NSW deserve a rich and diverse cultural offering and this funding will ensure our museums, theatres, performance venues, galleries and libraries are fit-for-purpose and continue to present quality arts and cultural experiences."
Mr Clancy said the community welcomed the NSW Government's investment to support quality arts venues that will boost tourism and the local economy.
"This important investment will advance and innovate the Arts in Albury while creating extraordinary circus works for audiences across NSW," Mr Clancy said.
"This targeted support will deliver excellent opportunities for the economy and help us provide better cultural experiences for young people and local audiences to enjoy."
Flying Fruit Fly Circus CEO Richard Hull said this investment from the NSW Government will enhance the profile of the Albury region as a growing cultural hotspot.
"A properly equipped creative space enhances our ability to support new, emerging, and established artists, ensuring that Australian contemporary circus continues to be the best in the world," Mr Hull said.
"This is a very significant investment from the NSW Government and we are very grateful for their support."  
The Flying Fruit Fly Circus is one of 23 projects funded under the Medium to Large Projects category as part of the $72 million Creative Capital funding.
Further details on the Creative Capital program are available on the Create NSW website at www.create.nsw.gov.au.
Image: David Anderson, OGA Creative Agency