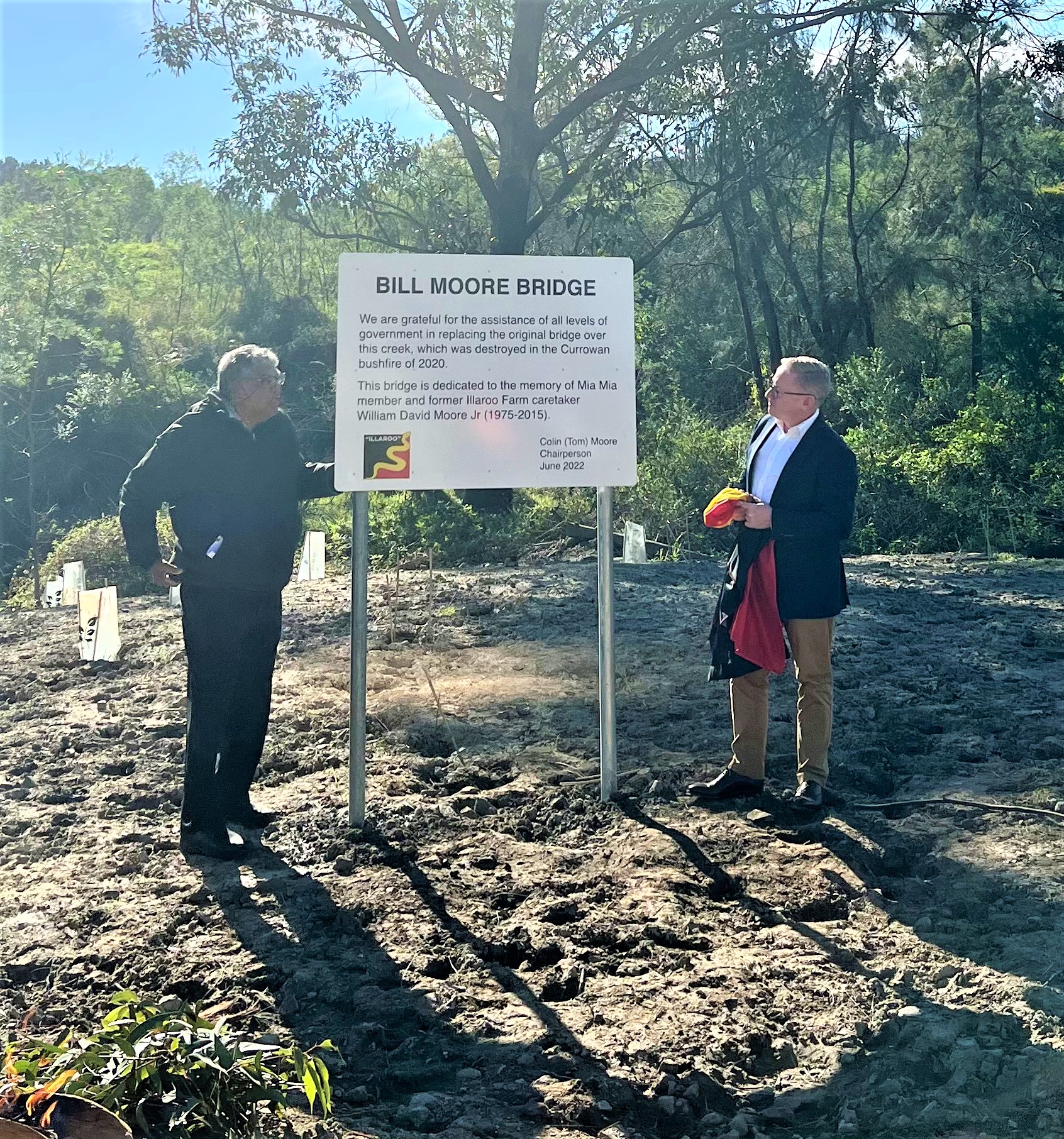 A milestone has been reached as the Shoalhaven community continues to heal from the devastating 2020 bushfires with the completion of the new Bill Moore Bridge.
The new $850,000 bridge is a collaboration between the NSW Government, eight local, state and federal agencies and the Mia Mia Aboriginal Corporation.
The bridge across Kellets Creek was the sole access point to Illaroo Farm, an Aboriginal not-for-profit recreation camp and conference facility west of Nowra which was destroyed in the January 2020 Currowan Bushfire.
Minister for Aboriginal Affairs Ben Franklin, who today officially opened the new 20 metre concrete bridge, said Illaroo Farm is one of the South Coast's most significant sites for on-country education and Aboriginal programs.
"The Illaroo Farm bridge rebuild is a tremendous project of collaboration, and today's opening is an important step in healing and ensuring Aboriginal culture is at the heart of this site as we go forward," Mr Franklin said.
"Community voices have always been an integral part of Illaroo Farm's past, and we look forward to their guidance and support as we develop an Aboriginal community-led model for its future."
Mia Mia Properties Incorporated Chairperson Uncle Tom Moore welcomed the bridge opening with a smoking ceremony to ensure safe passage to the site.
Uncle Tom said the bridge is key in ensuring Aboriginal elders and the Aboriginal community can connect back to country.
"Restoring access to country is the first step in healing – both the land and ourselves, and we are so grateful for the collaboration that has led to this point and we are excited about the future opportunities open to us now," Uncle Tom said.
Indigenous Land and Sea Corporation (ILSC) Group CEO Joe Morrison said assisting the continued growth of Mia Mia Aboriginal Corporation is a great example of the ILSC fulfilling its purpose to support and empower the land and cultural needs of Aboriginal people.
"We are very pleased that by supporting the purchase of this significant property for local Aboriginal people back in 2001 it provided the community with an important place for cultural activities and Elders accommodation," Mr Morrison said.
"In an area where Aboriginal people have limited access to their traditional lands and waters the partnership to reinstate safe access to Illaroo Farm will continue to facilitate important community use of the property and enable Mia Mia to manage and protect the significant heritage value of the land."
The Currowan bushfire destroyed most of the farm's accommodation buildings, kitchen and dining amenities and chapel.
The completion of the new bridge means the site can now be accessed for the third and final stage in the rebuilding process, the development and completion of culturally appropriate construction on the site.