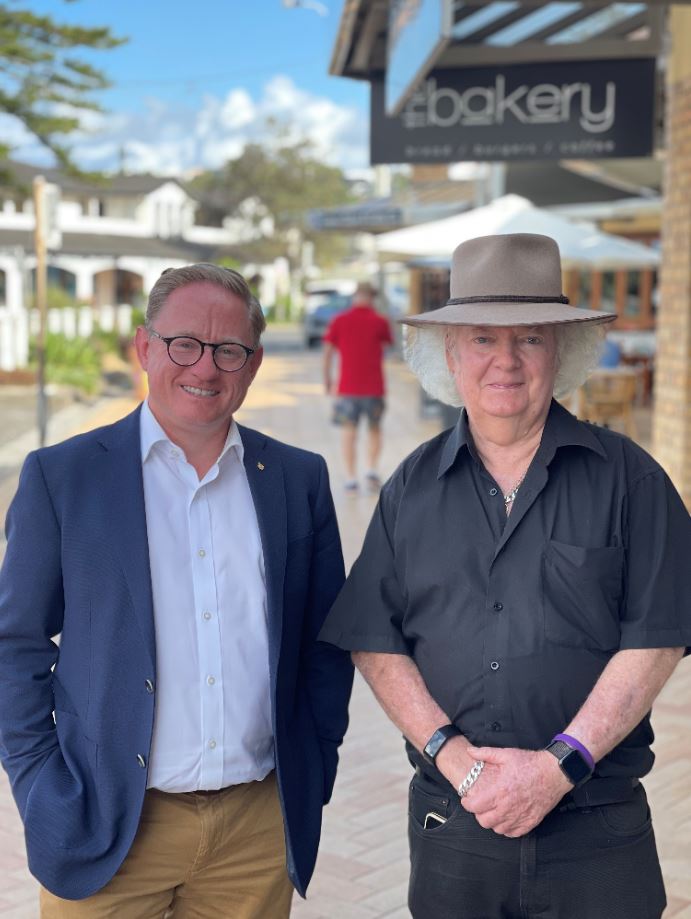 Lennox Head will benefit from $996,000 in funding to improve Ballina Street, giving a boost to local business and creating better public space for the local community.
Local Nationals Member of the Legislative Council Ben Franklin announced the funding from the NSW Government's $15 million Your High Street program.
"This funding will attract more people to Ballina Street in Lennox Head and improve safety, connections, footfall and trade for local businesses that have done it tough over the last 12 months," Mr Franklin said.
"Ballina Shire Council's The Lennox Village Vision Project will involve upgrading the streetscape by installing seating, public art, lighting and greenery while retaining the local village atmosphere."
"We all know that Lennox Head is a beautiful coastal town and the transformation of Ballina Street will ensure the main street is an inviting space for the community to gather."
Mayor of Ballina Shire Council David Wright said "Ballina Shire Council is delighted, and very thankful, to receive substantial funding ($995,904) through the 'Your High Street' grant."
"This funding will aid our significant plans to revitalise the main street of Lennox Head.
"Our Lennox Village Vision project will deliver a greener, more pedestrian-friendly village centre that reflects the slow and coastal lifestyle. It will include traffic calming, wider footpaths, more trees and greenery, more street lighting, and more seating for people to pause, connect, and soak up the atmosphere.
"This funding will enable us to put the finishing touches on the upgrade by completing the southern and northern flanks of the main street – and just in time to celebrate the town's centenary in 2022!"
Minister for Planning and Public Spaces Rob Stokes said the program builds on the success of the Streets as Shared Spaces program, which piloted street transformation in the wake of the COVID-19 pandemic.
"The pandemic has helped shift our perception of streets as more than just places to walk or drive. One year on from the lockdown, Your High Street is the second phase of the program which cements the role of our streets as places for people to gather, socialise, dine and do business," Mr Stokes said.
"From Penrith to Parkes, councils throughout NSW have answered the call to create more welcoming and attractive main streets for their communities.
"Nineteen councils have been successful in securing funding to transform their high streets, with a total of $8.2 million going to 12 regional councils and $6.9 million awarded to councils in Greater Sydney."
The Lennox Village Vision Project is one of 19 projects across the state to be awarded funding from the NSW Government under the Your High Street program which are expected to be completed by May 2022.
The Your High Street grant program contributes to delivering the Premier's Priority to increase the proportion of homes in urban areas within a 10-minute walk of quality green, open and public space by 10 per cent by 2023.
For more information visit: https://www.dpie.nsw.gov.au/premiers-priorities/great-public-spaces/streets/grants-for-councils